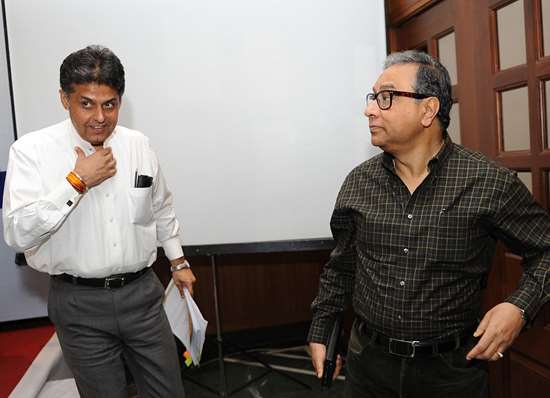 From Off the Record, the Monday gossip column in Deccan Herald:
"Tehelka editor Tarun Tejpal's fall from grace has brought a sense of "divine justice" in Prasar Bharati, where the invisible presence of Tejpal—thanks to his closeness to the information and broadcasting minister Manish Tewari—was one of the contributing factors behind a long-standing "difference of opinion" behind Tewari and Prasar Bharati CEO Jawhar Sircar.

"Tejpal is believed to be one of the outsider journalists, whom Tewari wanted to rope in Doordarshan in an attempt to revamp the image of the public broadcaster. Sircar opposed the move and favoured full time government employee in the DD.

"The public broadcaster's experiment with journalists from outside like defence analysts Ajai Shukla ended in a whimper as Shukla too resigned within days. Later a Tejpal company reportedly received contracts to prepare two different programmes for the DD and there was pressure on the top brass of Prasar Bharati to air those programmes in slots with high viewership."
For the record, Tarun Tejpal's name was removed from the board of Prasar Bharati after the alleged sex scandal felled him, and the Indian Express reported that just before the fall, Amaraman India Pvt. Ltd, a firm owned by him, had bagged a contract for 52 shows.
Photograph: courtesy Jitender Gupta/ Outlook*

Also read: Tarun J. Tejpal steps aside as editor of Tehelka
Life yourselves up, dearie, or get into my elevator
POLL: Is sexual harassment rampant in Indian media?
Online petition to protect Tehelka journalist's privacy
'Tarun Tejpal was trapped in a skin not his own'
Tarun Tejpal: Fear and self-loathing in Goa
Aroon Purie and Vinod Mehta on Tarun Tejpal
***
Tarun Tejpal on the five facets of his life
How Congress regime stepped in to help Tehelka
A magazine, a scam, a owner & his Goan house
NYT, WSJ weigh on Tehelka's Goa controversy